Skip to end of metadata
Go to start of metadata
Open Report
dialog opens when you select
OfficeWriter Designer .NET > Open > Open from Server.
It allows you to open RDL files that have already been created and saved to a remote SQL Server Reporting Services (SSRS) report server. RDLs for SQL Server Reporting Services 2008 and higher can be opened.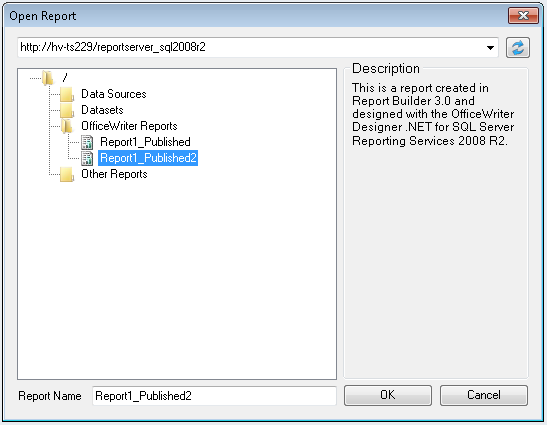 To open an RDL from a remote report server:
Click Open from the OfficeWriter Designer .NET toolbar.
Select Open from server.

In the domain or server URL field, enter the path to your SSRS report server. For example, http://MyReportServer/ReportServer. Click Refresh or hit Enter to connect to the report server.

Navigate to the RDL file on the report server.
Double click the file or select the file and click OK to download the report.
File Support in OfficeWriter Designer .NET
Currently supported files
RDLs that are used in SSRS 2008 or later (2008 R2, 2012) are supported. This includes:
RDLs created in Visual Studio 2005 that have been re-saved/upgraded in Visual Studio 2008
RDLs created in Visual Studio 2008, 2010, or 2012
RDLs created in Report Builder 3.0
Currently unsupported files
RDLs created in Visual 2005 or earlier
RDLs created in Report Builder 2.0 or earlier