Skip to end of metadata
Go to start of metadata
The Publish Report dialog appears when you click OfficeWriter Designer .NET > Save > Deploy to server. This action submits the report file to the SQL Server Reporting Services (SSRS) report server where the SSRS reports are stored.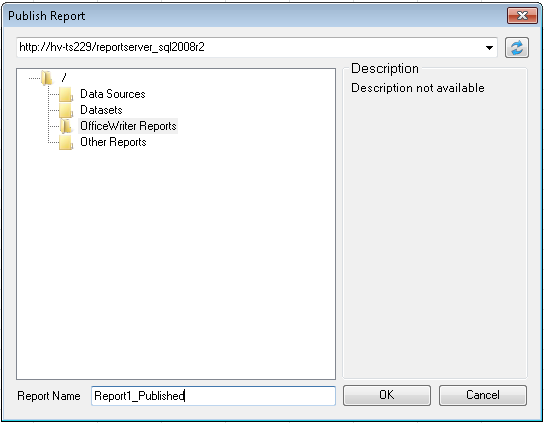 To publish your report:
From the OfficeWriter Designer .NET toolbar, click Save and select Deploy to Remote Server.


In the domain or server URL field, enter the path to your SSRS report server. For example, http://MyReportServer/ReportServer. Click Refresh or hit Enter to connect to the report server.

Navigate to the destination folder for your report.


In the Report Name field, enter a name for your report.


Click OK. If a report with the same name was already published on the server, you will be asked to overwrite it.


When the report is published, you will receive a message box telling you that the publish was successful.