Skip to end of metadata
Go to start of metadata
The Step 1 of 3 dialog opens when you click the OfficeWriter Designer's Add DataSet button. This dialog is the first step in the process of building a query to add to your report.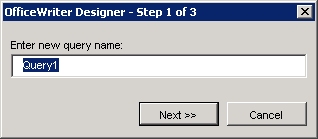 To begin building a query:
Click OfficeWriter's Add DataSet button.


Enter a name for your query, or leave the default name.


Click Next.
See Also
Create Your First Excel Report