Skip to end of metadata
Go to start of metadata
The OfficeWriter Designer has the ability to work with reports that are created in Report Builder and Visual Studio, but it also provides a way to develop reports from scratch within Word using MS Query.
Enabling MS Query in the OfficeWriter Designer
By default, the OfficeWriter Designer MS Query functions for adding, editing, and removing queries are disabled and will not appear in the OfficeWriter Designer toolbar.
To enable MS Query for the OfficeWriter Designer:
Open the Start menu and select Run.


Enter regedit and click Ok.


Open the folder HKEY_CURRENT_USER\Software\SoftArtisans\OfficeWriter\Designer.


Double-click Enable MSQuery. A dialog will open.


In the Value Data field, enter 1.
Once MS Query has been enabled, the Add DataSet button will be available. The Edit DataSet and Delete DataSet options will become available through Merge Fields > DataSets once a data set has been added to the report.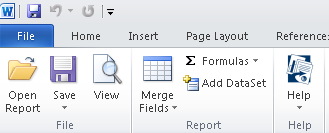 Working with MS Query with the OfficeWriter Designer